Winter Stronghold
Finally, it's time for the final competitive events of the year for me and the Silver Queen!
And since there are quite a lot of events happening in this update, I'm gonna make it as compact as possible.
But that's not all, I also acted up as an escort for a friend, guarding a very, very special deal!

And I also attend a very special occassion......technically without my Evo!

Welp, let's see how did everything unfold by checking the update below!
[10 Dec 2019]
As you've read at the top of this update and at the previous update, December hosts two final time attack events that I could attend this year: RevSpeed Super Battle and the final round of Eastern Kanto Circuit Trial Championship. First off, let's talk about the RevSpeed Super Battle. This annual event, held by the legendary RevSpeed magazine (and yes, therefore they're a rival to Option magazine) has been a huge staple of Japanese time attack scene for a very long time, and possibly the oldest as well. This year will see it's 30th anniversary of the event, and the 31st running will be hold right off at January next year. RevSpeed Super Battle shares the same reputation as the premier Time Attack event in Japan, the same spot that is filled with Attack Series, Battle Evome, Hyper Meeting and the invitation-only Option Super Lap Battle. With my entry in Hyper Meeting and RevSpeed Super Battle this year, that's already two events ticked off the list
The RevSpeed Super Battle is open for quite a lot of entries around Japan, and this year there would be 78 cars attending, including myself with my Silver Queen. I heard a lot of elite names will be joining the competition as well, but who are they remains to be seen. These entries are divided into multiple classes as usual. This classification is a bit complex to be explained, so sit back and grab some snack and a cup of coffee or tea as I'll try to make it easy for you to understand.
The classifications starts by determining if your car is street legal or not. If it is, it enters the Street Class, while if it isn't it'll enter the Open class instead, where the champions are duking it out with unlimited amount of aero. And then both classes are segregated again depending on the drivetrain of your car, which means there are six main classes: Street FWD, Street RWD, Street 4WD, Open FWD, Open RWD and Open 4WD.
The FWD and RWD classes segregates the class further depending on the engine displacement. For the FWD classes, there are three sub-classes: FWD 1 consists of turbocharged and supercharged cars with engine displacement of 1600cc upwards, FWD 2 consists of naturally aspirated cars with engine displacement of 1600cc upwards, and FWD 3 consists of anything with engine displacement of 1500cc or less. For the RWD classes there are only two of them: RWD 1 consists of turbocharged and supercharged RWD cars with no displacement limit, as well as naturally aspirated cars with engine displacement of 2500cc upwards. RWD 2 consists of naturally aspirated cars with engine displacement less than 2500cc.
In the end, the classification should look like this:
Open Class - Non street legal, purpose-built racecars with unlimited aero.

[*]Open 4WD: AWD cars, no engine size limit

[*]Open RWD 1: >=2500cc naturally aspirated RWD cars + turbo/supercharged RWD cars with no engine size limit

[*]Open RWD 2: <2500cc naturally aspirated RWD cars

[*]Open FWD 1: >=1600cc Turbo/supercharged FWD cars

[*]Open FWD 2: >=1600cc naturally aspirated FWD cars

[*]Open FWD 3: <=1500cc FWD cars

Street Class - Street legal cars with OEM or sha-ken allowed aero

[*]Street 4WD: AWD cars, no engine size limit

[*]Street RWD 1: >=2500cc naturally aspirated RWD cars + turbo/supercharged RWD cars with no engine size limit

[*]Street RWD 2: <2500cc naturally aspirated RWD cars

[*]Street FWD 1: >=1600cc Turbo/supercharged FWD cars

[*]Street FWD 2: >=1600cc naturally aspirated FWD cars

[*]Street FWD 3: <=1500cc FWD cars
If you still have a hard time understanding all of this, my Silver Queen will quite obviously enter the Street 4WD class, since after all it's still street legal. With no engine size restrictions though, that means I have to face quite a lot of heavy competitions, from fellow Evos and Imprezas to a sea of Skyline GT-Rs plus GT-R R35s. Theoritically I could as well go against the likes of Carrera 4S and a huge selection of Audi RS cars but I'm not sure if anyone would enter one. Still, could be worse: Imagine entering a rather unorthodox car like, oh I don't know, a Legacy, 3000GT, or a Galant. Or even something completely unsuitable for the job like a Caldina GT or even Vivio RX-R
As I finished my lunch and going to iron my race suit and race undies, Muza (
@Niatross
) called me on the phone. It's a good thing I haven't fired up the iron yet, I don't want it to burn my race suit and undies (not as in burning it and making a hole, more like leaving a burn mark). As I sit down in the ironing desk and toy with the perfumier bottle, I answered the phone.
"Hey Edo, it's Muza, you there?"
"Yooooo Muza, having a lunchbreak there man?"
"Oh yes I am, that's why I call you"
"Tell me man, how good is Omori Factory's lunch meal?"
"Well, it's......like your regular high school cafetaria, really. Not that good but not that bad either"
"Eh....I still want one anyways. Anyways sup man, anything I can help?"
"Yeah, so um, let's cut to the chase. I need you to accompany me for a deal"
"What kind of deal? I don't do shady deals man"
"Naaaaah don't worry, it's just a car trade. I'm gonna trade one of my cars"
"The Supra?"
"That thing's already gone man. It's the Merc"
"The Mer-oh, the C63?"
"Yup"
"That's a shame man, but then again you've got yourself an M4"
"Exactly. No point to keep it at this point"
"Yeah, I can see that.......so what are you going to trade it with?"
"Well that one's a secret obviously!"
"Okay okay, so when I should drop by to the garage? I've got races to do man"
"Whoo, our racer making moves again I see! When's the race?"
"Tomorrow and 14th"
"I presume Marc (

@topy

) will be busy at 11 and 12, so I guess we could make it by 13"
"Cool enough. How about AJ (

@RocketBunnyS13

) ?"
"He's busy obviously. Don't worry, I've got Ziga (

@Lagano

) on our side"
"Nice! Okay so it's 13th midday then?"
"13th midday, yes. Aight my lunchtime is almost over, see ya my man, and thanks"
"See ya"
Hmmmm this is interesting. I know Muza almost never touched the C63 ever since he bought it for.........reasons, but what is he gonna trade it with? Considering the Merc is a powerful luxury sedan for most of the Asian market (even the non-AMG ones, I know it's a bread and butter mobilia for Europeans and Americans), I'm absolutely sure it'll rack a skyscraper-beating value in the used car market, even with the mods he has done for it. Speaking of which, we'll talk about it later.
After the aformentioned call from Muza, I continued my preparations by ironing and warming the racing suit and undies, and cleaning my helmet and the Silver Queen, before spending the rest of the day packing up for the race, calming and relaxing myself down and getting an early sleep. It's quite a special occassion, so I have to say, making yourself calm and comfy before and during the race is also an important matter this time
And since I'm going to face even heavier competition, all I want and have to do is simply have some fun.
[11 Dec 2019]
IT'S RACEDAY! I woke up at 5 am, and it's quite dark outside. Having a cold shower in early morning quite uncomfortable enough, but imagine doing that in winter. Might as well having a shower in Alaska or Siberia and accidentally put myself in a cryostasis......I guess it's really the time I invest on a shower or even bath with hot water settings. But eh, this way I could woke up faster. After another quick brekkie of toast and hot tea (finally, a proper brekkie!), I set off to Tsukuba Circuit with thumping heart, eager to see other racers in the progress.

As I arrived to the track and I went to the paddock, almost every pro teams has taken the pit boxes and several paddock slots. As expected from pro teams, they're armed with a sizeable amount of mechanics and a ton of spare parts for the car. Most of the racers has worn their racing suits. Nevertheless they're quite polite and open for others, mostly allowing others to take pics of their car and open for chit-chats and discussions. They're once also a bunch of amateurs like me, after all. After having some chatters with other drivers while fitting the timer beacons and race numbers, I went off to the locker room to change into my racing suit. Some of them are my fellow rivals from the Tsukuba Circuit Trials championship, and they were glad I'm joining the foray as well.
]
There were quite a hell lot of famous time attack cars attending the race, but the one I managed to take a snap and talked with the team that owns it is the Rush Factory R34. If you read the last update, you'll remember I mentioned that R34 as a good example of a streetlegal time attack car, being the current champion of Attack Tsukuba's Real Tuning class and constantly scoring 58 second lap times. They sought to improve the figures here, therefore making the event a warm-up before next year's Attack Tsukuba. And as you can see here the car is full of OEM Nismo parts, sporting R-Tune bodykit plus Z-Tune front fenders, as well as Top Secret bonnet. And it's also caged and only has driver seat inside. I really want to cage the Evo V as well, but I guess I still need that rear seats.
And as I walk around the paddock I also spotted a familiar sight: It's the Summer Yume crew and their Mirage! Given that they don't gave me a phone call to drive for them, I thought they weren't joining the event this year. But here they are, and they're running with the entire crew, including Ohira-sensei himself! Since I'm not driving for them, Yuuta takes the wheel as their main driver.
"Ah, Sensei! You're here as well!"
"Edo-kun! You're racing as well?"
"Yeah, I was wondering if you and the crew will come to be honest"
"Well, here we are"
"But I thought you'll call me for stuff like this?"
"No......not yet. We gotta give the first blood to Yuuta, to give him the idea of the competition"
"Aaaaah......yeah I agree with that, he gotta know the scene first"

I shifted my attention to Yuuta, who weren't in the garage. The Mirage was receiving final setup and preps by Goro, Kei, Mishima and Nato, Ohira-sensei's crew for quite a long time. I walked to the group and jumped into the conversation. They seemed happy to see me on the paddock, I'm glad I could cheer them a bit.
E: "Morning chaps, y'all being busy?"
G: *finished wrenching* "Ah no no, we're good, sit here with us!"
N: *puts tools down* "Say, you're racing too?"
E: "Yeah, it's becoming my routine these days"
G: "Hey that's cool. Tell us young man, how's competition like this feels like?"
E: "Hmmm......a bit hard to day. It's like a trackday, but you're asked to go faster and there's a prize for it"
N: "Well, it's easier said than done obviously" *notices Yuuta* "Ah, there he is"
Y: "Oh hey aniki! Are you racing too?"
E: "Yes I am. Don't worry, we'll be in the different classes"
Y: "I tell you what, he can't hold back his excitement and it shows" *laughter*
K: "Edo-kun, pass me that screw"
E: "Sure" *passes screwdriver*
K: "Thanks. So how was your first race back then? Please tell us and Yuuta"
E: "It was, um, relatively worse. I was all alone, prepping my car by myself"
K: "You don't ask others for help?"
E: "That's the good thing. You could, and just about everyone would help you out there"
Y: "Phew, I'm glad to hear that"
E: "Say Yuuta, are you nervous?"
Y: "Um, yes I am"
E: "Don't worry, I was also in your shoes earlier this year. Just be nice and polite to others off-track, would you?"
Y: "Okay, I'll try aniki"
E: "Oh, and of course be clean and ready to give space on the track. This isn't touring car racing so don't worry about contacts"
Y: "Sure thing!"
E: "After your first run, try to look at the other drivers. They'll give you an idea of what should you do"

After some time it's time to attend driver's briefing, so I and Yuuta went to the conference room to attend it. Along the way I introduced him to other drivers that I know, and I'm quite glad they welcomed him warmly. And oh yes, speaking of which, the Summer Yume Mirage will enter the Street FWD 2 class, since it's been swapped with a naturally aspirated 4G63 engine. Aside from a bunch of Civics, Demios and Swifts and probably Mini Coopers, I can't think any possible challengers that hurdles ahead of the Summer Yume crew.
As I've mentioned earlier, there are a staggering 78 cars attending the event. So the numbers are as follows: 10 from Street 4WD including myself and the Rush Factory R34, 10 from Street RWD 1, 6 from Street RWD 2, 4 from Street FWD 1, 8 from Street FWD 2 including the Summer Yume Mirage, 2 from Street FWD 3, 8 from Open 4WD, 8 from Open RWD 1, 7 from Open RWD 2, 6 from Open FWD 1, 8 from Open FWD 2 and only 1 from Open FWD 3. Quite an outstanding entry list, don't you think? But this also bring a new problem: It's gonna be a long day with everyone in a long queue to set their lap times. The format for the day is 2 one-lap shootouts, one before lunchtime and one after lunchtime. And in case of long delays caused by heavy snowfalls or a long period of red flag, there will be only one shootout, which means any mistakes in your lap scoring session spells game over for the rest of the day.
Most of us went into our cars or pit boxes and started the first session as the race control tower played
this
from the speakers.. Thankfully it's still bright and sunny outside, and so far no possibilities of snowfall so far. Since the Summer Yume Mirage runs before me, I took a bit of my time to watch Yuuta drive the car around the Tsukuba Circuit for the first time. Yuuta hasn't got what it takes to push it yet, but at least he could bring the Mirage back safely. And some time later, it's my turn as I lined up the Silver Queen at the pitlane exit.
Run 1 - 09.45 am
The breeze of winter are providing quite a lot of healthy cold air for the Silver Queen's engine and brakes, though this also makes heating the tyres a little bit difficult. That's actually rather okay as well since this means the tyres won't be toasted quickly and therefore it'll last slightly longer. Still, that means the car struggled a bit as I warmed up for my turn.
With this, I took a more cautious approach around the track and focusing on having a stable, controlled flow for the lap. After all, with the possibility of this run being the only run for the day, and I still need to drive the SIlver Queen back home, it's slightly better to go safely rather than going all-out in a rather low grip conditions and ended up crashing the car.
With the first run over, I went back to the pits quickly to allow others score their time safely......and also because I want to see the pros doing it as well! Some time after I went off from my own car, Rush Factory R34 was going to set its first lap time, so I quickly rushed to the trackside once more to see it run and echoing that sweet stroked RB26 sound.
Finally, as everyone finished their first run, lunch time came. I decided to spend my lunchtime together with other drivers in the track's canteen. And before we went on for the second run, there was a small talk show with a surprise guest: Tsukuba's current lap record holder, Tomohiko Suzuki, or better known as Under Suzuki! Sadly though, he didn't do any run for the day since his S15 was still badly wounded and undergoing a major rebuild ever since it received an unfortunate accident in this year's WTAC, where all in a sudden the rear tyre popped and Suzuki with his S15 was launched into the pit wall. Suzuki was okay, but his S15 was totaled. Worse still, that car was brand new and barely tested before shipped to Australia for WTAC, and now he had to spend all his savings to fix and rebuild it. As a result, he ran out of money to be able to attend next year's WTAC running, administration and logistics wise. You can read more about his crash and
donate for his cause here
.
Speaking about Under Suzuki, I really have to say, he's the one who inspired me to this day, and I truly aspire to be just like him, not just in the time attack scene, but also in motorsport world in general. Under started just like all of us, a common office employee who spent his weekend tuning his beloved S15. A decade and a bit more ago when he started his time attack odyssey, his S15 suffered from heavy understeer everytime he fielded it at Tsukuba, earning him the 'Under' nickname from his colleagues and comrades. And ever since then Under tried to find the cure to his S15's problems and studied about aerodynamics as he developed the car, at most times either with a small band of friends or completely alone.
To give you an idea of just how long has Under Suzuki's S15 evolved through more than a decade, here are four pics of his S15 chronologically. The first one is from his early runs in 2008, the second one is from 2011 after he founded Scorch Racing, the third one is from 2013, some months after he became the new Tsukuba dominator, and the final one is from 2017 when he attended WTAC, some months after he renewed his record and solidify himself on Tsukuba's TA throne. You might not believe it, but yes,
they are the SAME CAR!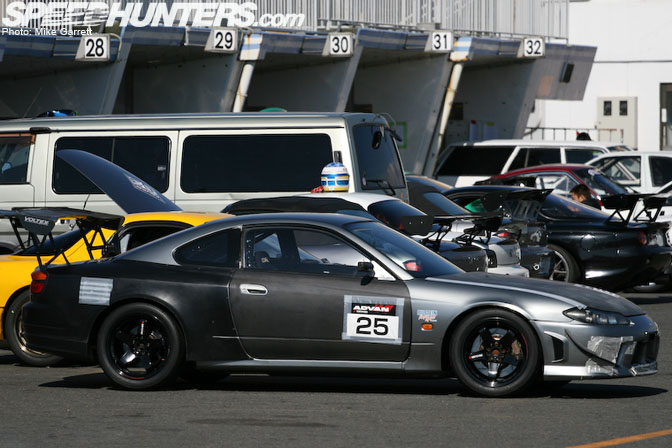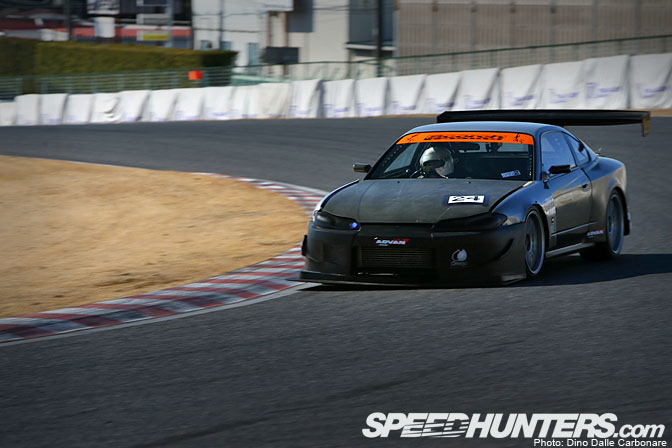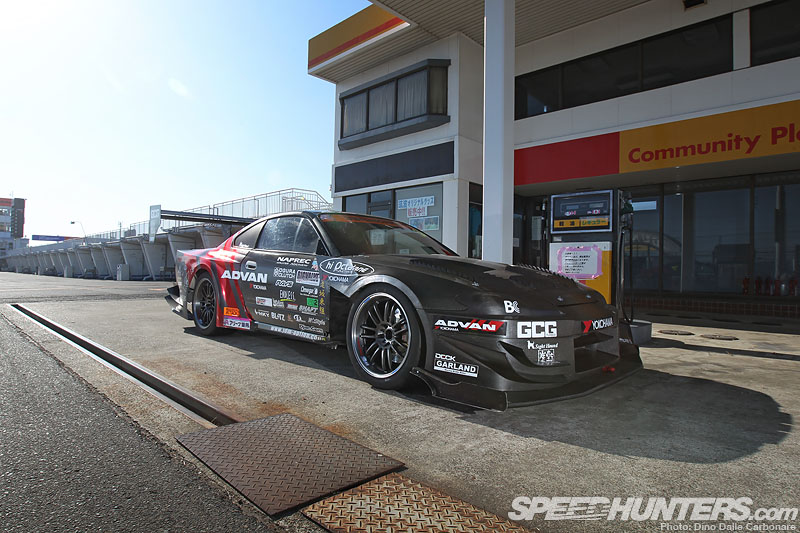 With lunchtime and the talkshow over, we prepared for the second run as control tower switched to
this song
. Just like at the first run, I spent my time spotting Yuuta and the Summer Yume Mirage running circles around Tsukuba. Now that he knows the circuit, he has pushed a bit and gained a better confidence. I wonder what's his lap time for both sessions? As I thought about it, I returned to my Evo, went off the paddock and linep up at the pit lane.
Run 2 - 13.15 pm
The air and track temperature has raised a bit, though the air is still chilly in general, and with a lot of rubber peeling off after the first run, I could go faster in this run with more confidence and better grip levels. And thanks to the chilly air, for probably the first time ever I felt much more comfortable in my race suit. Not becuase it's cooler inside, but it's warmer without getting too hot inside the suit and the car, so I could keep my concentration and intuition better compared to summer and early autumn races.
I honestly don't expect much for the result due to I'm facing the pros for the first time, but nevertheless, this was one of my most enjoyable run I've ever had. Not only I can finally see how far and fit I am compared to the pros, the conditions were ideal and spectacular for me to run on. Total defeat never felt this sweet in my life.
With my second run over, it's finally went back to the pits and watch the pro duke it out with ease. At times I also have some more chatter and exchange notes with other drivers. I also had Yuuta on my side to have him accustomised to the world of pro racing, and also so he can improve better by listening to us exchanging notes and discussing our lap times.
Finally, with all drivers setting their lap times and all timer beacons has been returned to the control tower, as mild snowfall showered us in the paddock, the result is announced. But unlike my usual routine, I decided to go to the bathroom first to heed my call of nature first, as well as to wait for the crowd to disperse a bit and preventing me to hold so much load as I queue behind the crowd.
With the crowd finally dispersed, finally I could read the result better. So first off, my own result. I finished at 7th in Street 4WD class with the best lap of 59.602 seconds at the second run. Honestly I was thinking I would be finishing dead last, but tturns out I almost made it to the midpack!
Rush Factory R34 won the Street 4WD class by a breadth's hair with a lap time of 58.437 seconds, only separated 0.103 seconds with second place. Meanwhile the Summer Yume Mirage finished 6th in Street FWD 2 class with a best of 1 minute 05.783 seconds. Not bad for their first outing! As for our overall placement.......well, don't even think about it, we're all absolutely buried by the Open class cars
For participating on the Super Battle, I received quite a lot of memorabilias, including a bunch of stickers, mugs, keychain, 2020 calendar and......a special copy of this month's RevSpeed Magazine, signed by Under Suzuki himself! That alone already made me sooooo happy. And for the monetary prizes, I received V$400 for finishing 7th in class and V$50 as overall standing's consolation prize, all to be transferred along with my weekly paycheck. After the podium ceremony was over, I went back home with a happy, satisfied heart.......and still wearing my race suit. It's absolutely cold as the sun sets that day.
[13 Dec 2019]
I woke up a bit late due to the tiredness I suffer from after the RevSpeed Super Battle event, combined with the soothing cold winter air flowing from my ventilation and electric fan. I guess it's a common thing for us from tropical countries to sleep with any kind of air conditioning, be it an electric fan or an AC. We were closer to the equator after all, so it's bright and hot almost every day, and rain season is quite a blessing to allow us to cool down for a while. For those who live in the hills and mountain areas, it's not really a big deal since the air is still cool enough even at midday, but for those who live in the coastal area........you can try frying egg and chips at midday and they should cook very well.
As I took my shower, I remembered my appointment with Muza to accompany him for his special deal. I immediately sped up my shower, quickly change into my hoodie and denim, wear my racing gloves, get into my sneakers, grab the RevSpeed magazine I received from the Super Battle, skip brunch and set off to the new KS HQ in Tokyo with
this song
blaring in the Silver Queen's speakers. Two hours later, I arrived at the HQ. Muza was there, but Marc were nowhere to be seen and Ziga apparently was just moving off from Inawashiro.
"Yo Muza, where's everyone?"
"I'm not even sure, it's been empty when I come here. But it looks like someone has used our tools"
"Someone? AJ? Marc? Someone else?"
"Marc, and his friends I guess. I mean look at this AE86"
"Eh? An AE86? I don't remember any of us owning an AE86-"
"That's my point. It must be one of his friend's"
"Hmmmm good point"
As we wait for Marc and Ziga, we walked upstairs and chill at the lounge.
"Anyways Edo, how's your race yesterday?"
"IT'S AMAZING! Well, I didn't win, but what an event it was!"
"It seems like you enjoyed it. Tell me more"
"I enjoyed it A LOT! Quite a lot of pros at the event, and turns out a lot of my friends joined as well!"
"Wew, it's already the time you share blankets with the pros, eh?" *chuckle*
"Eh, ideally I'm still far from that, but seeing them run in front of my eyes is just.....majestic man"
"I know that feel, after years of seeing them on your phone finally you can watch the real deal"
"Yeah! And oh, I've got a free magazine as well! Let me pick it up in my car" *runs downstairs*
So, as we waiting for Ziga and wonder where's Marc, we read the RevSpeed Magazine that I got. An hour later though, we heard an engine sound, then someone, maybe two, stepping into the garage. I wonder who is it?
"Hey, you know who that is?"
"I don't think so, none of our cars has that engine sound. Wait here, observe from above"
"Roger that"
And so, Muza went downstairs and talked to a copule standing in front of the garage. Turns out the man is Hanteo, one of Marc's close friends and also his colleague. The woman behind him is Kumi, Hanteo's daughter. After Muza had a bit of chatter with Hanteo and telling him to park his car at the garage's storage room, finally Marc arrived to the HQ with even more of his friends in his recently bought Evo IX MR.
And the next thing we know, hilarity ensues as Marc bickered with Muza and Hanteo upon his sudden disappearance. Turns out Marc had a lunch with his friends, but (a)He forgot to leave any messages to anyone, and (b)They were outside for longer than they should. Marc almost forgot our appointment over Muza's special deal as well, so it's no wonder that Muza spilled his thoughts to Marc's face for a while. After they done bickering and Marc's friends continued their work on the AE86, I went downstairs to greet Marc and flex the RevSpeed magazine copy
"Yo! Marc my man! Look what I got from yesterday's race! Yeaaaaaa!" *waves the magazine in excitement*
"Ooh nice. What's that?"
"A free copy of RevSpeed magazine, baby! Man you should've been there!"
"Ah, I wish I could, but right now this AE86 is one of my top priorities right now"
"Well yeah, your Evo is already alive now, but what about the Mustang?"
"That's my premier job as well, but I'd like to save a bit for other parts"
"Mmmm I can see that. Gotta keep that American authenticity. Ah by the way are these your friends?"
"Exactly. And yeah they're my crew, most are my colleagues as well"
"I want to talk with them but I don't want to disturb them. That young woman over there is yours as well?"
"Yep, not my colleague but a close relative to one of them"
"Well she looked like a high-schooler.......is that
really
your taste in woman, mate?"
*lightly pushes me* "AY, NO! I'm not THAT kind of pervert or a creep-"
*parries in panic* "OI! I meant those who are younger than you, not outright high school girls man!"
"Ah, ummm......possibly, it could be, but it could be not as well"
"Oh come oooooon just tell me. Though not gonna lie, she's cute and attractive......."
*lightly slaps me* "Ha! You're the pervert one! And don't you ever try to cheat on Sera! REEEEEE-"
"Ey what? It's just natural that I'm attracted to girls man! I'm still as straight as Monza's main straight!"
"Well you're right, but ain't you already got Sera for your own?"
"Eh? Oh, I don't even started a relationship with her, we're just close friends that is all"
"After everything that happened in this summer?" *in mocking tone* "Oh you poor poor thing........."
"Eh, poor I am indeed. At least she indirectly saved my life once......."
At this point, finally Ziga arrived in the KS HQ with his Evo 6. Muza separated us and stopped us from our bickering.
Mu: "Oi STOP FIGHTING! Ziga's here!"
Ma: "Oh, already?"
E: "Phew, finally!"
Mu: "We're almost late for the deal mate, let's bounce now!"
E: "Aight, let's bounce"
Ma: "Hold up, let me giv my crew some pointers"
Mu: "Okay, I'll go ahead"
E: "I'll go ahead as well. And I wish she didn't listen to us earlier, dang........"
Ma: "Well, yeah I wish as well. It's quite embarassing" *laughter*
After Marc giving his pointers to the crew and handed them his keys to the garage, we set off to the deal location somewhere near Tokyo. To make our trip quicker and to make our lost time waiting for Marc and Ziga, we stormed the C1 loop once again. We were all on high spirits as I blasted
this song
on my Evo's sound system.
As I've mentioned earlier, Muza will trade his C63 for something else, presumably something even more expensive. Seeing as performance European cars would rack up a high value in Japanese used car market, I still wonder what he will trade the C63 with. At this point I'm quite confident enough that he'll trade it with any sportscar of his choice, be it an Asian, Euro or American one. They simply spells exclusivity, don't you think? Added with the fact that it's left hand drive import, the selling price for this car would rocketed even further. I still had a lot of questions in my mind as we carved our way through the expressway.
Let's talk about the cars we're running with right now, aside from my own. First off, Ziga's Evo VI TME. Yes, I swear that is a TME model. You see, the legendary TME was offered not only in red, but also in various colors. The colour catalog is exactly the same as the one Mitsubishi offered for the regular VI, which as far as I could remember, doesn't include the now-memetic yellow from the Evo V catalogue. And the side decals was a standard feature, but there's an option to delete them. The bits that you had to have are that front bumper, special Recaro front seats and possibly the engine bits lifted from the Group A WRC racer. It just happened that the red ones with that side decals become Mitsubishi's poster boy and therefore the most sought after, since it resembles closer to Tommi Makkinen's all-terrain weapon of choice.
[align=justifyNow onto Marc's Evo IX MR. The MR edition of the VIII and IX iterations are the fastest of all the Evos offered by Mitsubishi back in the day, and the IX MR boasted a healthy 287 BHP by standard. Marc owns the 6-speed MR GSR version of the car, which is quite well-equipped comfort and performance wise, plus special suspension kit provided by Bilstein and lightweight BBS wheels. Marc plans to modify this car lightly so it can match the performance of the UK-only Evo FQ-300, which, you guessed it, has circa 300 BHP. That's basically what I planned for the Silver Queen back then......except that I unintentionally surpassed that target up to 450 BHP.[/align]
And finally, we got Muza's subject of the trade, the W204 C63 AMG. This C63 was originally owned by
@Benny
back in the USA, aided by
@Soju
who found the advertisement for it. It had a light damage when bought, and with Benny being a massive Mercedes fan, he decided to buy it outright and restore it to roadworthy conditions. Later though it was used for several hundred or probably thousand miles before it was sold to Muza to clear some space in the StS's Ardmore garage (though there's more than that, I can't remember what is it). After landing in Japan soil, Muza gave it a brand new suspension kit and wheels, lowered it, and.......only drove it several times before once again sat parked in the KS HQ. With Muza securing a new daily in the form of an M4, Muza felt it's the perfect time to let this thing go.
After some hours driving and weaving around traffic, we arrived at the deal spot, a luxury and import car dealership. I'm glad the deal isn't a shady one indeed! And after I assisted Muza to sort the deal and papers for both cars, we all waited for the new car to roll out. After some time of banters and meme exchange with Muza, Marc and Ziga, finally the awaited car rolls out from their storage garage.

It's a pristine, pure white Porsche 930! According to the papers Muza handed to me for a while it's not the Turbo version though. Nevertheless a 930 is a 930, and that means an instant passport to a pure sportscar driving experience. And presumably a safer one, since the Turbo version were infamous for an extreme amount of turbo lag, causing the drivers to went out of control once the turbo boost finally kicks in properly and leading to a sizeable amount of wrecked 930 Turbos and dead drivers. These series of accidents earned the 930 Turbo a grim nickname of 'Widowmaker'.
With the deal sealed, the Merc let go and the new 930 secured in Muza's hands, we decided to go back to our cribs. But realizing that I haven't eaten all day, and both Ziga and Muza could have something to bring back home with, we agreed to have a late lunch stop at a Burger King joint. And over there, we have a brilliant idea......
You see, by today's meet, we accidentally had a huge inter-generation meeting between the Evos. From the first gen, there's my Evo III. From the second one, Ziga brought his Evo VI TME. And finally, from the third gen, Marc has his Evo IX MR. And by coincidence as well, all the Evos that are here were (a)The final Evo for each of their platforms and (b)The fastest Evo Mitsubishi offered when they were on sale. So, before we had our lunch, we decided to have an impromptu photo session of the cars. Ain't it beautiful to see a wide band of generation reunited? Though I have to admit, a burger joint isn't really an ideal place to unite them
As we eat our lunch and I continue to flex the RevSpeed Magazine in my hands, someone called into my phone. After I gulped a piece of my BBQ beef rasher and took a sip of iced tea, I answered the phone.
"Hello, Yuan Edo here"
"Ah hello Edo-kun. Kitagara here"
"Kitagara.....ah, Kitagara-sensei, is that you?"
"Yes, it's me. How's the progress of your translation?"
"Mostly done, will finish the rest of it today"
"Good to hear! Ah listen, are you busy at 15th?"
"No, I don't think I will. Do you need my help for the day?"
"I have an idea. Come to Tsukuba circuit with the documents, I'll be there as well."
"Good idea, but what will be on for the day there? A drift day?"
"Even better. It's the AE86 festival"
"Wowee! But I don't have an AE86-"
"Ah don't you worry, we'll drive together in mine"
"That's quite kind of you sensei, I appreciate that. Okay I'll go there"
"Great, see you at the track then. Have a nice afternoon"
"See you sensei, good afternoon"
I don't even have an AE86 so that's actually not on my bucket list, but there you go, I was invited to the AE86 festival. This time though, I will only be riding shotgun. And that means I will go to Tsukuba Circuit thrice a week.....how cool is that?
And later on when I checked the even't information page, turns out aside from free runs for AE86 and ZN6 owners they also had a drift competition, as well as time attack competition. And they will also have a guest as well.
To allow myself preparing for the Eastern Kanto circuit trials the next day, I decided to leave the boys earlier than I should. I wish I could see Marc's crew again and talk with them.........they looked like a good bunch to talk and drive with. And of course I would like to visit the KS HQ for another time, it's quite comfy enough to be called a second home for pretty much everyone. I guess I could sleep there as well
[14 Dec 2019]
It's the final raceday of the year! The race is held after lunchtime so I could wake up a bit late this time, and suffer less from having a cold shower in the winter. Plus I can also have another proper breakfast! The only problem would be......I forgot to wash my own race suits, but at least I already did wash my race undies, so I don't have to race under my own undried sweat from days ago
After having a proper brekkie and packing up my race suit and helmet, I went off to the circuit again.
As I arrived at the circuit, I do my usual routines: Install the timer beacons, set the race number stickers, go to the locker room to change into my race suit as well as to heed my call of nature, get back on the paddock and have some banters with fellow racers while waiting for the drivers briefing. At this point it has become a normal routine for me, but way back then, I didn't expect myself to be able to do this all the time
Eh, we never could guess the twists and turns of fate itself, though there are some that admittably can be bent. Had if I never considered to enter RAYS Challenge in Hyper Meeting earlier this year, I'll never get the taste of competitions until now.
And then it was time for drivers briefing. To remind you again of the classifications (though at this point I expect you to know well about it) in the Eastern Kanto Circuit Trials championship, let me give you another short overview of it. Thankfully, it's much shorter and simpler compared to the complex classifications of RevSpeed Super Battle:
[*]NT1: <=1600cc Road cars, including MX-5s of all generation, but no VTEC/MIVEC/Similar sytsem allowed
[*]NT2: <=2000cc 2WD and 4WD Road cars
[*]NT3: >2000cc 2WD and 4WD Road cars, as well as rotary-engined cars
[*]AT: Anything from above-well, pretty much anything with automatic transmission

Turbocharged, supercharged and rotary engined cars has their engine capacity multiplied by 1.5
Since my Evo has a Tomei 2.2L stroker, that landed me in the NT3 class intead of NT2. I'm currently sitting in 8th in class and 10th in overall standings after skipping the 5th round at Sodegaura Forest Raceway. All I had to do is do my best to improve my position in the final standings. The format of the day is 1x5 lap shootout, which seems a bit more forgiving compared to the usual 2x one-lap shooutout, but for me it's even more strict and punishing. Basically you only got three lap to socre your lap, with the rest of them used for getting out from and back to pitlane. If you make a small mistake at one of the laps, you can still immediately try to recover at the next one. But if you crashed your car early, it's quite an obvious game over. And there are 30 cars today, which are 10 cars from NT3 class, 12 from NT2 class, 7 from the NT1 class and only one from the AT class.
With the drivers briefing over, we all went back to our cars and prepare for the final competitive run of the year, and the race control tower blasted
this song
to spice up our preparations. Moments later, it's time for me to get into the track and use the three chances that I have to set my laptime.
Although there's relatively enough grip at the start, I decided to take it a bit easy on Lap 1 and then start to open the taps in Lap 2 to give myself a better idea over the track conditions. Once again, the winter breeze became a godsend for everyone's engines but not so for the tyres. Nevertheless, we all went absolutely flat out for one more time in this year before having our winter breaks. Some will be running again in January, some will run at February, and a few more would come back at March.
As Lap 3 started for me, I gave it all that I could with my Evo. AT this moment I almost can't feel my own body, as if my own body and vision has been glued and fused with my Silver Queen. It just felt so direct and united, every movement of my eyes and hands quickly translates into on-track movements. It might not be the best run I ever had, but it certainly what I feel like a dream. I was........ascended. Yeah probably that's the best word to describe the feelings that I had.
And finally, I crossed the line for one last time this year. I can't wait to see the final result! I immediately return to the pits and once I did, I quickly get off the Silver Queen and had another call of nature. As we waited for the final results to be announced, we all return to the timer beacon and have a late lunch in the track's canteen. It was all jolly and relaxed in the canteen, and everybody talked their plans for winter and next year. I do want to have a snowboarding session with some of them, but not only I don't have any single snowboarding equipments, I never had the chance to do any snowboarding in my life since I came from a tropical country
An hour later, the resuts are in! I scored a best lap of 59.468 seconds, unexpectedly placing me 4th in NT3 class and 6th overall! And with that result, I landed in 6th place in the class's final classification and 9th in the final classification. I could've snagged 8th overall since I tied with the 8th place, but since he attended more rounds than me, he had the right to be placed 8th. But hey, at least I actually improved my position in the classifications!
And with that, I won quite a lot of memorabilias and a 2020 calendar from TMAC as the event's host (and that means I've got quite alot of mugs and keychains at the end of the year
). As for the monetary rewards, I got quite a lot from them:
- 4th place in NT3 class, Eastern Kanto Circuit Trial Championship final round = V$ 600
- 6th place overall, Eastern Kanto Circuit Trial Championship final round = V$ 800
- 6th place in NT3 class final standings, Eastern Kanto Circuit Trial Championship final round = V$ 1000
- 9th place overall final standings, Eastern Kanto Circuit Trial Championship final round = V$ 400
After the podium ceremony has finished and everybody had their final chatter and banters, I went back home in a freezy, dark sunset. But no, that wasn't my final visit to Tsukuba for this year, because I still got one more thing to do..........
[15 Dec 2019]
........and that is the AE86 festival! Well, I myself don't have an AE86 and I don't want to cause a ruckus by parking my Evo in the paddock, so this time, after Ii arrived at the circuit, I went to the public parking spot instead of the paddock, and walk on foot for a while to the paddock. As I arrived there, there were a sea of AE86s and ZN6s, and probably also several AE85s welcoming all the visitors that day. But one question remains: Where's Kitagara-sensei's AE86?

I walked to the other end of the paddock to find this lovely, period-correct example, sitting on SSR MK III wheels and completed with Cibie bumper lights. I do remember Kitagara-sensei's AE86 having Cibie front lights as well, but the wheels were totally different. Is this his car or somebody else's? Nevertheless I spent my time for a while by admiring the AE86 and taking pics of it.
Suddenly, a voice was heard from my left back.

"Enjoying the cars here? Do you like my car's new upgrades?"
"EH WHA-Oh, Kitagara-sensei! I-I'm sorry for being a bit rude"
"No no, no problem at all"
"Ah yes, did you change the wheels sensei? I don't think it looked like that the last time I saw this car"
"Yes, it's now sitting on SSR MK III wheels. I was getting bored by the previous wheels"
"Aaaaah I see, wise choice on the new ones sensei. Period-correct, I should say"
"That's excatly what I was for, a period-correct look"
"Anything else that is new?"
"Switched to new valves and cams. Was considering billet heads or even supercharger but nope"
"Well, supercharger would be an overkill, but billet head is a good idea"
"Yeah, probably someday"

With the drivers briefing coming up, we went off to the conference room. Today's event are split into two sessions: Free run session, where everyone are free to drive however they like until lunch time, and the competition session where the drift and time attack competitions will be held. The drift competition are split into clubman class and pro class. Whereas the pro class has the usual single and tandem runs, the clubman class only employs the single run format. As for the time attack, they're split into the AE86 and ZN6 classes. Kitagara-sensei originally wanted to enter the clubman drift competition, but eventually he doesn't think he would cut it with fresh, unproven parts.

And later on the special guest was revealed: It's Kunihiko Bandoh and his AutoBahn Soarer! Kunihiko came from the same crop with Under Suzuki, being an office employee who likes to tune his car. Just like Under, he has developed the Z30 Soarer for roughly a decade, and this year finally he made his international debut by entering the Soarer in WTAC, aided by Under in the process.

With the driver's briefing over, we jumped into our cars and get ready for the free run session. I am riding shotgun inside Kitagara-sensei's AE86 to see him fling the AE86 sideways for the first half of the day. After decades of owning and driving the car, I wanna know just how far Kitagara-sensei still got it. And I should admit, this is the first time I'm inside an AE86. Of course, I'm quite excited to be driven in one because it's that car from Initial D (though it's not the exact car that either Takumi, Wataru or Shinji drives), but I'm also excited because I've got to get inside one of the motorsport icons in general.
You see, as described in Takumi vs Shinji battle, AE86s were popular in both rallying and touring car racing before it does in drifting scene, particularly in Japan and British Isles. Due to it's relatively cheap price back then, AE86s are quite sought after in England for touring car racing and Ireland for rallying, resulting in quite a lot of AE86 lurking in various conditions around Ireland.
Just ask the guys at Juicebox
. Meanwhile, in touring car racing, the AE86 did so well and was raced by a lot of drivers, that it took home 1986 and 1987 BTCC driver and manufacturer titles, as well 1986 European Touring Car Championship manufacturer title with barely any sweat, facing faster cars such as M3 E30, Sierra R500 and Rover Vitesse 3500.
Finally we were able able to line up at the pitlane after queueing for a while to get into the track. In just over 5 minutes the track has turned into a huge band of 4A-GE powered orchestra, covered in thin tyre smokes from everyone that drifts here and there. And because it's AE86 festival, race control tower pumped for us a lot of Super Eurobeat collections along the day. Initial D, AE86 and Eurobeat songs has been associated with each other these days, and it actually shows
As we're exiting the pits, Kitagara-sensei was really on it. He quickly swing the car and held on it as he created a calm but speedy flow and transitions. I was holding myself in the velour stock seats, but I can't help but admire Kitagara-sensei's skills on the run. He might be a senior man right now who has barely any time to enjoy his car, but once he do, he let out all of his passion and remaining skills into the track. And as you can see, he still has a lot under his sleeves. It's true what they say, once you've got the passion, you can do anything you like.
He was quite fast and tidy around the track, he could clear the final corner sideways with ease and at speed, something that I should admit I can't do properly until now, since as you already know it, I rarely drifts. And once I do, it's usually at Nikko or Ebisu instead of Tsukuba. In fact I've visited the track multiple times now and I only drifted once here. Kitagara-sensei also easily connects the drift from the last corner into a sleek sanpatsu/triple flick down the main straight and the first corner. Understandably though, he opted out from doing a wall tap.
After mutiple laps of drifting, we went back to the pits. There are quite some time left to drive on the track, so I was confused as why we were stopping in such an early time. Did we toast the tyres already?

"Um, sensei, is that all for the day?"
"Well no, there's still more"
"Eh? Why we're back into the pits then?"
"Take the wheel"
"Um, excuse me sensei?"
"Take the wheel, I want to see you drive"
"Ah, but um, it's your car, I'm not sure if I could-"
"Yes you can. You're a racing driver, you should know the car's limits already"
"Ah, I kinda do, okay then. Well, here goes"

And so, we stopped the car and switched places, with me behind the wheel now. With some time left to drive the AE86, I drove to the pit exit.
At first, I tried to keep the car going grippy and safe, but as the rear of the car kept on swinging all the time, eventually I had enough and just have the car going sideways as well. At first it felt like the rear tyres are running on ice, but eventually catching and holding the car sideways felt quite easy. Is this what AE86 drivers like from the car? EIther way I can feel the AE86's lightweight body makes it very, very controllable in my hands.
And once again, my sights and mind has been opened by a brand new experience behind the wheel. Another flavour to savor in my hands, eyes and minds. It's a totally different experience from any cars that I've ever driven. Yes, I could have driven it with my usual grip driving creed, but this time going sideways is the way to go. I still hold back from going sideways at the last corner though, since I don't want to bin Kitagara-sensei's car into a gravel bath or even the armco. And no, this doesn't make me want to own an AE86 since I've got no money to buy one and there are too many cars in my stable currently, but hey, that's another car ticked off the must-drive-in-a-lifetime list
And finally, our time in the track is over. As we went back to the pits, I remarked on how well the AE86 is prepped for going sideways. After all, it's been owned and prepped for years. In both mine and Kitagara-sensei's eyes, the AE86 finally has gained that ideal setup. After we went back to the paddock, we went for lunch in the track canteen with other drivers and enthusiasts.
After lunchtime, it's time for the drift and time attack competitions. My mind was fixated to the time attack ones, particularly since turns out two of the Japan's fastest AE86s also joined the fray, which are the
Carbon Junkie AE86
and
TS Factory AE86
. Fun fact: Both cars didn't even touch the 300 BHP power figure! But where the cars lacked in power, they cover it up brilliantly in weight reduction and aero works, weighing less than 800 kg and sporting a mega-sized aero kit. And of course there's also the AutoBahn Soarer as well. It's quite an unforgettable day, and I thanked Kitagara-sensei for the invitation as well at the end of the day.